SAA SANOA -TUOTANTO
Galleria Huuto Jätkäsaari 1
14.9.–29.9.2013
HUOM: Uudet aukioloajat: ti-su 12-17
The process begins here and now.
When an interaction occurs between two subjects, touching the face of another, face to face – an encounter that cannot be predicted but that can speak to you, touch you, be conflicted or elusive. We react, the face does not leave us cold, but instead the otherness of the other, the touch of the face returns us back to ourselves, how we experience the responsibility of otherness ourselves.
Minna Heikinaho. Can be said – Physical exercises productions (3 May 2013)
Emmanuel Levinas has discussed the concept and creation of community in his publications. He believed that physicality is reciprocal and that it does not come back the same. The other is encountered face to face in a mimetically tense space, but as an event the face of the other is something that cannot be escaped, something physical and distinguishable that irresistibly requires something more, a response. For Levinas, the face of the other is encountered on the skin level, present, responsible and reciprocal – here and now.
The Can be said production offers a series of three exhibitions (triptych):
Can be said – Will I say? – I may say
Performances: 15 Sep, 22 Sep, 29 Sep
12 pm – 4 pm
Welcome!
www.saasanoa.com
www.facebook.com/saa.sanoa
kommentit(at)saasanoa.com
I wish to thank the Kone Foundation and the Finnish Academy of Fine Arts Doctoral Studies program for the research opportunities.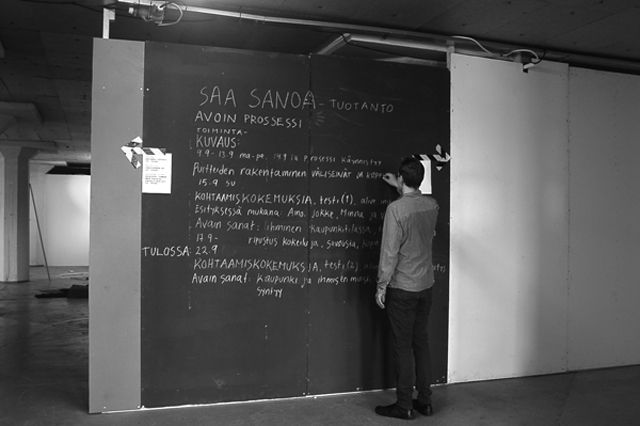 29. Sep.
12-14.30
Saa sanoa –production prensents: Encounter experiences, test (3), happening position
Key words
Cityspace – community, human being and responsibility, how do we create
community?
Performing with: Aino, Eero, Katri, Jokke, Minna, Osmo, Roosa, Sara, Smilla,
Tero, Ville, Zipora
14.30-15 The demolition of happenings, open discussion in finnish
15-17 Challenges in the practice of community arts in the urban space, open
discussion in finnish
Participants: Lena, Pekka, Petri, Piia ja Minna
The format is an open process: susceptible to change and to progress in the
terms of conditions
Welcome!